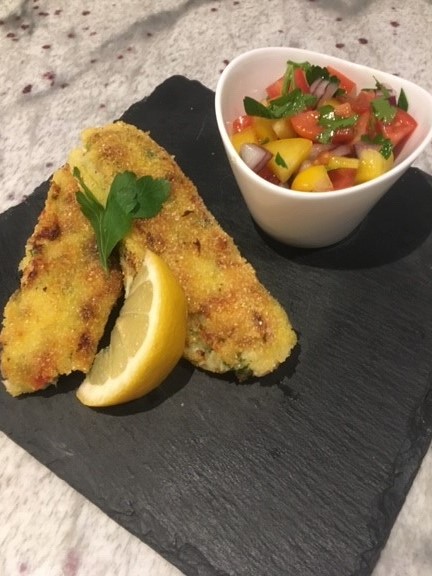 For 2 large fishcakes you will need:-
Ingredients
1 medium potato suitable for mashing weighing about 150g ( Desiree or King Edwards have the best flavour) OR a small tin of potatoes OR 150g frozen mashed potato
A little butter and milk for mashing the potato
100g ready to eat oily fish - this can be tinned tuna, smoked mackerel with skin removed, tinned salmon, tinned sardines, cooked kippers or a combination of several of these.
2 teaspoons fresh chopped parsley or dried herbs 2 teaspoons lemon juice ( squeezed from ½ lemon or from bottled lemon juice)
1 small gherkin or 1 tablespoon pickled capers chopped finely (optional)
Salt and pepper to taste
4 tablespoons fresh breadcrumbs made from 2 slices bread grated OR 4 tablespoons crushed cornflakes OR small ready made tub of fine breadcrumbs OR 4 tablespoons dry polenta
1 egg 1 tablespoon sunflower oil for cooking (if frying rather than oven baking)
Method
1. Turn the oven on to gas 6, 200°c ( unless you wish to fry the fish cakes see note at point 8 below)
2. If using fresh potato - peel it and chop into small pieces - about 2cm cubes. Fill a small saucepan half full of water and bring to the boil. Add the potato and cook until it is soft. Drain the potato and leave to cool. Mash the potato with a fork or potato masher until it is fluffy. Add a little butter and milk for extra flavour. For tinned potatoes open the tin, drain and mash with a masher or a fork. For frozen mashed potato defrost for 3 hours and mix well adding a little hot water or melted butter if the potato is dry
3. Drain the tinned fish and place in a bowl. Remove skin from smoked mackerel or kippers if using, and add to the bowl. Use a fork to break it into flakes. Add the mashed potato and stir the two together.
4. Squeeze the lemon and add 2 teaspoons of juice to the fish mix with a pinch of salt and pepper to taste.
5. Chop the parsley into small pieces and add to the fish or add the dried herbs. Add the gherkins and / or capers if using and mix well
6. Shape the mixture into 2 balls ( or more if smaller fishcakes preferred) and then press each down to make flat cakes about 1½ centimetres thick
7. If making breadcrumbs from fresh bread, grate the bread using a grater or food processor if available. If using cornflakes crush them finely by placing them in a plastic bag and rolling a rolling pin or similar over them. Put the breadcrumbs or cornflakes or polenta onto a plate. Break the egg onto another shallow bowl or plate and beat gently to mix the yolk and white together. Dip each fishcake into the egg so it is covered and then dip into the breadcrumbs/cornflakes/polenta to coat each side and the edges.
8. Place on a baking tray that has been well greased or lined with baking parchment. Bake for 15 minutes until golden brown. Cooking in the oven is the healthier option however if preferred the fishcakes can be fried in a frying pan with a little oil for 5 minutes on each side
9. Serve hot with vegetables or salad as a main course or make mini fishcakes and serve with a dip such as tartar sauce or similar as a starter
VARIATION
Alternative herbs such as coriander or basil can be used. Other flavourings can be added such as pesto, thai curry paste, tomato paste, horseradish, finely chopped pickled onions etc. Add about 1 teaspoon of the chosen flavouring with the lemon juice and mix well. Other fish such as pilchards or tinned crab meat, cooked leftover white fish such as cod or cooked smoked fish such as haddock could be substituted for the tuna or salmon.
Vegetarian Version
Substitute the fish for a small can of chickpeas and 1 tablespoon frozen or leftover vegetables such as peas, sweetcorn or mixed vegetables, lightly mashed Add to the mashed potato. Ensure the mixture is well seasoned with salt and pepper and herbs, and if wished add 1 tablespoon tomato puree. After mixing shape and coat and cook as for fish version.