January 2018 New Year - New recipes! Chicken, Bacon and Vegetable Cobbler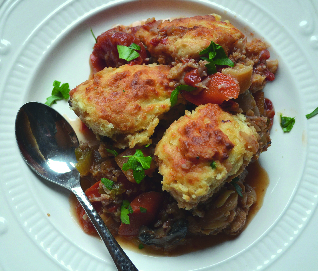 The cold winter weather calls for hearty healthy warming dishes and this delicious easy Chicken Bacon and Vegetable Cobbler is just what's needed. A Cobbler is a traditional dish that has a layer of light, tasty scones cooked on the top. Great for using up leftovers, the ingredients can be tweaked according to what you have in the fridge. The scone topping means the dish is a meal in itself so saving you time as well as money.
INGREDIENTS
180g ( 9 oz) cooked chopped chicken (or 1 large raw chicken breast,or 2 raw boneless chicken thighs, brushed with vegetable oil and cooked on a baking dish in the oven (gas 6/ 200°c) for 25 minutes till cooked through)
3 rashers of streaky bacon
8 tablespoons leftover cooked vegetables or mixed frozen vegetables ( sweetcorn, peas, carrots, cauliflower, beans, peppers, onions etc - according to taste)
1 heaped teaspoon stock powder ( or 1 chicken or vegetable stock cube)
Small tin of chopped tomatoes - approximately 200g (8oz)
Other flavouring ingredients according to taste (such as herbs ( oregano, parsley, basil etc), 1 teaspoon chilli powder, 1 teaspoon tomato puree, 1 teaspoon curry powder, 1 garlic clove crushed )
2 tablespoons water
Cobbler topping
200gm (4 oz) self raising flour
Pinch salt
50gm (2 oz) butter or margarine
Optional flavourings chosen from 50 gm grated cheddar cheese, 1 tablespoon mixed chopped fresh herb (parsley, oregano, chives or basil), 1 teaspoon paprika, 1 teaspoon chopped spring onion
100ml ( 6 Tablespoons) milk
Beaten egg to glaze
Method
1. Turn on the oven to gas 6 /200°c
2. Chop the cooked chicken and the bacon into bite sized pieces. Place in a bowl
3. Add the vegetables, tomatoes, stock, water and other flavourings. Mix well and tip into a small ovenproof casserole dish
4. Cobbler topping
5. Put the flour into a mixing bowl,and add the salt
6. Chop up the butter /margarine and rub it into the flour until the mixture looks like breadcrumbs
7. Add chosen flavourings and mix well
8. Make a well in the centre of the flour and pour in most of the milk to make a soft spongy dough, adding more liquid if necessary
9. Roll or flatten out dough to 1½ cm (½ inch) thick
10. Cut out rounds with 5cm (2 inch) cutter and place on the baking tray. If there is any dough left re- shape the remaining dough into a ball, flatten slightly and cut into rounds.
11. Place the scones on top of the chicken mixture. If there are any left place on a baking tray to cook separately
12. Brush the scones with beaten egg for a glossy top
13. Bake for 20 minutes until well the chicken mix is bubbling and the scones are well risen and golden brown
14. Serve on its own or with extra vegetables or salad.