October 2017 The Larder Louts - Cookery Courses for active seniors in Harpenden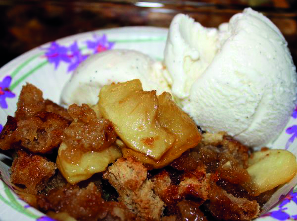 We have just finished our latest series of cookery classes for older people. We had 12 gentleman join us for the 3 classes in Cornelia's Coffee Shop in St NIcholas' Church, Harpenden. Over the 3 weeks we made Chicken, Bacon and Tomato Cobbler, Victoria Sandwich Cake, Fish Pie, Apple Brown Betty, Quiche Lorraine and a Lemon Cheesecake. The course was very lively and everyone was very proud of what they achieved. The feedback was overwhelmingly positive and the most frequent comment was that they wished they could come every week! The recipe for our traditional, delicious and seasonal pudding Apple Brown Betty can be found below.
INGREDIENTS
Between 300 and 350g (12 - 14 oz) dessert apples
1 -2 tablespoon sugar ( according to taste and the sweetness of the apples)
2 tablespoons raisins or sultanas
1 tablespoon water
75g (3oz) bread (about 2 slices)
25g (1 oz) Butter (2 tablespoons)
½ teaspoon cinnamon, mixed spice, or ginger (optional)
2 tablespoons demerara sugar
Method
1. Turn on the oven to gas 6, 200°c
2. Peel ( if wished),core and chop the apples into small chunks.
3. Place into an ovenproof dish
4. Add raisins, if using, and sugar to taste
5. Add 1 tablespoon water. Put to one side whilst making the topping
6. Grate the bread or break up into very small pieces. Place into a bowl
7. Add the demerara sugar and cinnamon or other spices ( if using).
8. Melt the butter in a small pan on the hob or in the microwave. Pour onto the breadcrumbs and mix well
9. When all well combined spread the breadcrumb mix all the the top of the apples. Press down very gently
10. Place in the oven and bake for 25 minutes by which time the apples should be soft and the topping crispy and slightly brown
11. Serve hot or cold with cream, custard or ice cream
© The Kitchen Front 2017